Bending, tempering furnace. 30 000 Euros
An important glazier group sells a bending and tempering furnace. The furnace is still working. Manufacturing year  1999.
Good working conditions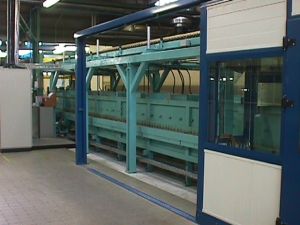 V2112

Bending tempering furnace

GMC

1999

30000 Euros

France East
Technical data :
Maximum lenght 1280mm
Maximum width 630mm
Maximum arrow  75mm
Radius  minimum  350mm
Depending flat glass thickness
Robax dimensions 1760 x 550 et 1100 x 650
Installation and training  possible by the furnace manufacturer.
For more information, to see the furnace working, please contact us on This e-mail address is being protected from spambots. You need JavaScript enabled to view it or by phone 00 33  664 73 63 77.
Merci