Glass secondhand (used) processing machines list
Last updated, 14-11-2023

Please find here-by our last secondhand glass processing machines (used glass processing machines). If you want to have more information about these machines available, please contact us on This e-mail address is being protected from spambots. You need JavaScript enabled to view it or by phone (Phone number : 00 33 664 73 63 77). We are on the flat glass processing machines market from 1992.
This list is updated every week and sent every month to 7000 glass processing companies in Europe and over.
You want to be the first informed about the last machines received, For 50 Euros a year you can receive within one day all the new machines which are proposed on sales.
Very soon after the list you will have some advices to choose a glass processing secondhand machine (used glass processing machine).
Last machines received : Bavelloni edger,  Dip Tech printer, Bavelloni Gemy 8, Vertical drilling machine, Schiatti Beveller, Sand blasting machine fratelli Pezza, Motorised glass storage half Jumbo, Besana drilling machine, Lisec washing machine,

Last used flat glass processing machines available
| | | | | |
| --- | --- | --- | --- | --- |
| V2388 | Glass edger Lattuada 7 wheels | AL7M 2018 | 35000 Euros | Provence France |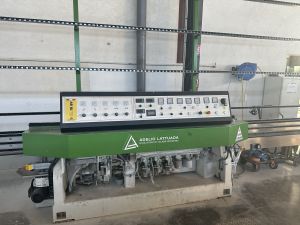 | | | | | |
| --- | --- | --- | --- | --- |
| V2387 | Glass Drilling machine 2 heads | Lattuada RBB 2018 | 15000 Euros | Provence France |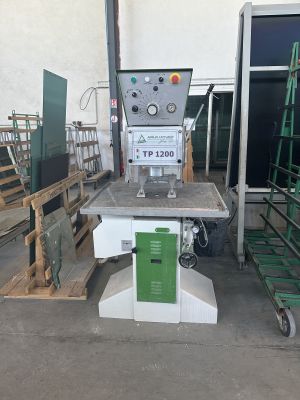 | | | | | |
| --- | --- | --- | --- | --- |
| V2386 | Washer 6 brushes 1800 20mm | 2019 E World | 5500 Euros | Bretagne France |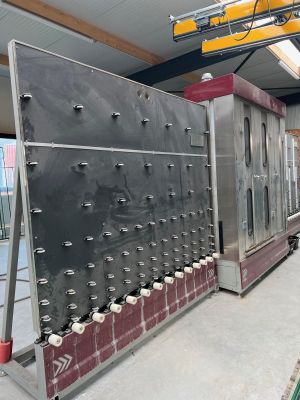 | | | | | |
| --- | --- | --- | --- | --- |
| V2385 | Edger Baudin 681 6 wheels | 1999 | 8500 Euros | Bretagne France |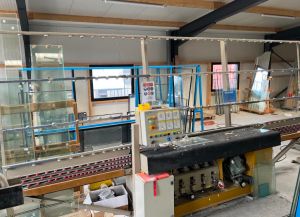 | | | | | |
| --- | --- | --- | --- | --- |
| V2384 | Glass pack unloader DLF | OCS 2012 | 1000 Euros | Anjou France |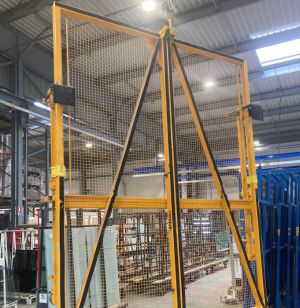 | | | | | |
| --- | --- | --- | --- | --- |
| V2383 | 5 wheels edger MD5 | Bavelloni 1997 | 7000 Euros | France East |
Very good conditions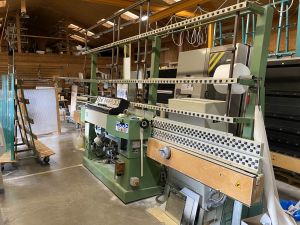 | | | | | |
| --- | --- | --- | --- | --- |
| V2382 | Vertical driller SCV with drills | 2021 | 13000 Euros | Center France |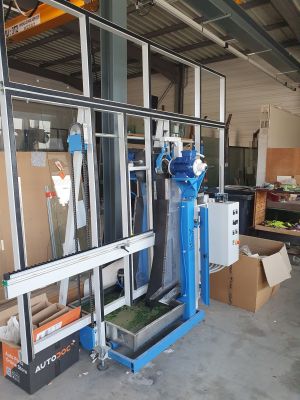 V2381

Digital printer

GP series Dip-tech

2014

90000 Euros

Sud Ovest France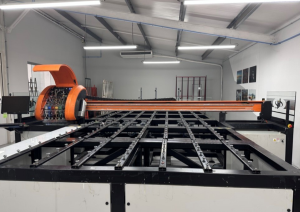 | | | | | |
| --- | --- | --- | --- | --- |
| V2380 | Glass edger 8 wheels Bavelloni Gemy 6 | 2001 Good conditions | 12900 Euros | Poland |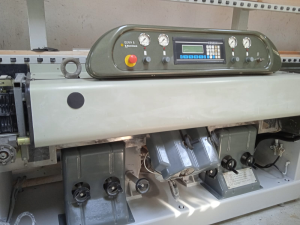 | | | | | |
| --- | --- | --- | --- | --- |
| V2378 | Double glazing line Lisec with  robot and gaz press 2500x1600 | 2000 à 2009 | 96 000 Euros | Center France |
Sold after received new Lisec line. Machine dismounted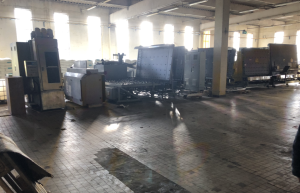 | | | | | |
| --- | --- | --- | --- | --- |
| V2275 | Rectiligne Bottero 108 F 8 Meules | 2004 | Sold | Provence |
| | | | | |
| --- | --- | --- | --- | --- |
| V2269 | Bavelloni Gemy 8 wheels | 2008 | Sold | France center |
| | | | | |
| --- | --- | --- | --- | --- |
| V2268 | Washing machine steffiglass 1500 open top | 2016 | 8000 Euros | France center |
| | | | | |
| --- | --- | --- | --- | --- |
| V2270 | Laminated glass Pujol |   | 8000 Euros | France center |
| | | | | |
| --- | --- | --- | --- | --- |
| V2271 | Cutting table GFP | 2012 | 8000 Euros | France center |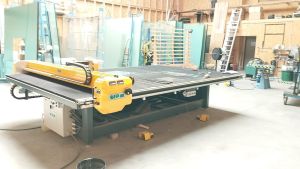 | | | | | |
| --- | --- | --- | --- | --- |
| V2272 | Turning table Steffiglass | 2016 | 1300 Euros | France center |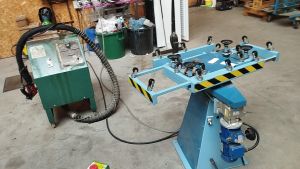 | | | | | |
| --- | --- | --- | --- | --- |
| V2273 | Pomp hotmelt | Advance system | 3200 Euros | France center |
| | | | | |
| --- | --- | --- | --- | --- |
| V2274 | Belt machine Knopp | 2009 | Sold | France center |
| | | | | |
| --- | --- | --- | --- | --- |
| V2267 | One head drilling machine |   | 600 Euros |   |
| | | | | |
| --- | --- | --- | --- | --- |
| V2265 | Driller Bohle 2 heads | 2018 | Sold | Bretagne France |
| | | | | |
| --- | --- | --- | --- | --- |
| V2264 | Manual cutting table with breaking bar and air cushion | 390 x 256x 85 cm Bystronic | 1000 Euros | Alsace France |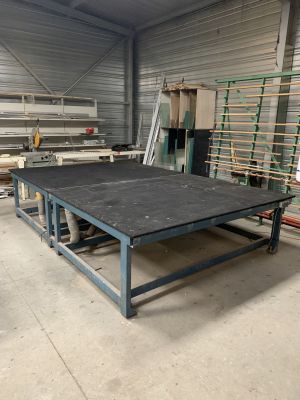 | | | | | |
| --- | --- | --- | --- | --- |
| V2259 | Vertical driller 2 heads | 2021 Sulak. New | Sold | Alsace France |
Caractéristics :
- Hole from 5 to 100 mm
Water pomp
-  Digital adjustment for Y
-  3000 x 1100 x 2300
-  : 400 V 3 P + N 1,8 KW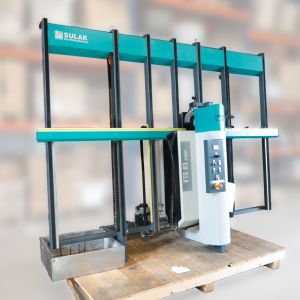 V2357

Bevelling machine Schiatti

7 meules

1998

Sold

Belgium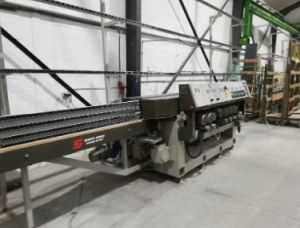 | | | | | |
| --- | --- | --- | --- | --- |
| V2356 | Sand blasting machine auto Fratelli Pezza Mistral 1800 | 2005/2006 1800 useful | 9000 Euros | Alsace France |
With double inlet and outlet conveyor
| | | | | |
| --- | --- | --- | --- | --- |
| V2251 | Engraving CN Kam 250 Bavelloni | 2001 2725 working hours with tools | Sold | France center |
| | | | | |
| --- | --- | --- | --- | --- |
| V2250 | Beveller Max80 CNP Bavelloni | 2007 70200 working meters | Sold | France center |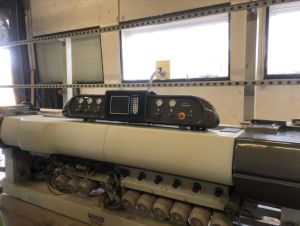 | | | | | |
| --- | --- | --- | --- | --- |
| V2249 | Shape beveller and edger SB10 Bavelloni | 1994 Edge and bevel | Sold | France center |
| | | | | |
| --- | --- | --- | --- | --- |
| V2248 | Motorised glass storage 21 positions | Pezza 2001 half JUmbo | 13 000 Euros | Switzerland Romand |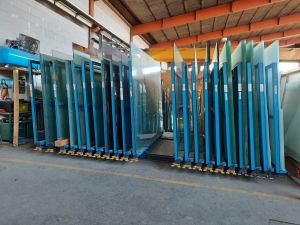 | | | | | |
| --- | --- | --- | --- | --- |
| V2246 | Drilling machine 2 heads with table | Besana 1990 | 5000 Euros | Latvia |
Strong machine in good  conditions, few used  and with new electronic device
| | | | | |
| --- | --- | --- | --- | --- |
| V2145 | Washer 1400 open top | Kover 3 /12 mm 4 brushes | Sold | Rhône Alpes France |
| | | | | |
| --- | --- | --- | --- | --- |
| V2144 | Washing machine Lisec 1500 6 brushes | 2005 | 16 800 Euros | France North |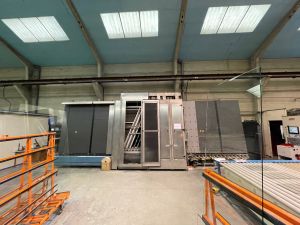 | | | | | |
| --- | --- | --- | --- | --- |
| V2143 | CNC Compact edge Intermac | 1999 | 12500 | Belgique |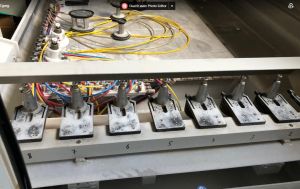 | | | | | |
| --- | --- | --- | --- | --- |
| V2142 | Screen printing automatic line INOPRINT 2001 | 2006 2100x700 | 32000 Euros | Slovénia |
The customer has bought a more importante line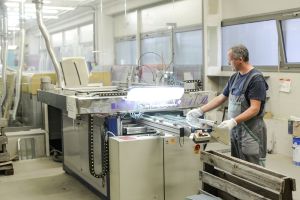 | | | | | |
| --- | --- | --- | --- | --- |
| V2141 | Shape, edge and bevelling Gieffe | 1993 | 3000 Euros | Center France |
| | | | | |
| --- | --- | --- | --- | --- |
| V2140 | One head driller Luchaire | 1998 | Sold | Center France |
Machine in working conditions. But small maintenance need
| | | | | |
| --- | --- | --- | --- | --- |
| V2139 | automatic glass rack Mistrello 10 positions. Jumbo | 2016  max 69 tons | Sold | Rhône Alpes France |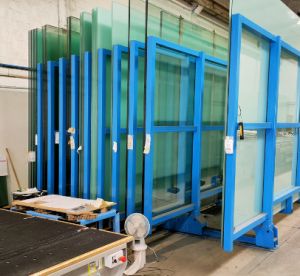 | | | | | |
| --- | --- | --- | --- | --- |
| V2138 | Unloader Macotec auto with 4 loading positions Capacity 45 tons | 2019 | Sold | Rhône Alpes France |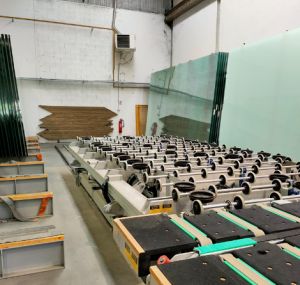 | | | | | |
| --- | --- | --- | --- | --- |
| V2137 | Table  Macotec laminated glass strato active 3,7 | 2018 | Sold | Rhône Alpes France |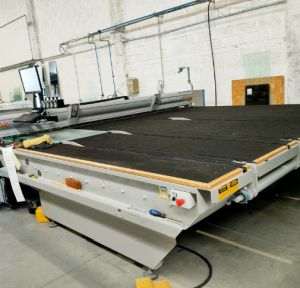 | | | | | |
| --- | --- | --- | --- | --- |
| V2135 | Manual glass storage half jumbo | 11 positions | Sold | Languedoc France |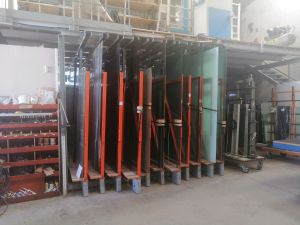 | | | | | |
| --- | --- | --- | --- | --- |
| V2134 | Sandblasting Fratelli Pezza manual | Ghibli 140 1998 | Sold | Suisse Romande |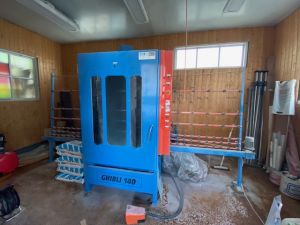 | | | | | |
| --- | --- | --- | --- | --- |
| V2131 | Baudin 581 5 wheels | 2009 | Sold | Suisse Romande |
| | | | | |
| --- | --- | --- | --- | --- |
| V2130 | Acid etching line |   | 250 000 Euros | East Europ |
| | | | | |
| --- | --- | --- | --- | --- |
| V2122 | Glass drilling machine 2 heads | Bohle 2016 | Sold | France South |
| | | | | |
| --- | --- | --- | --- | --- |
| V2121 | Glass edger  5 wheels Battellino | 2013 | 13 900 Euros | France South-Ovest |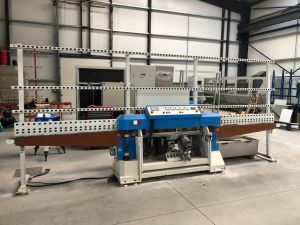 | | | | | |
| --- | --- | --- | --- | --- |
| V2119 | Edger Bavelloni PR88 8 wheels | 2003 | Sold | France South |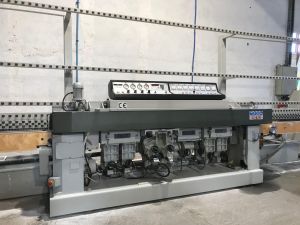 | | | | | |
| --- | --- | --- | --- | --- |
| V2120 | Edger Bavelloni 4 wheels |   | 3000 Euros | France South Ovest |
Without water pomp
| | | | | |
| --- | --- | --- | --- | --- |
| V2118 | Double glazing line2500x500 | Baretta 2010 | 28 000 Euros | France South |
Supplied with turning table, salt filler and butyl machine
Possible also to have gaz filler and heat soak test oven
| | | | | |
| --- | --- | --- | --- | --- |
| V2117 | Edger 6 wheels Baudin 681 | 1994 | Sold | France East |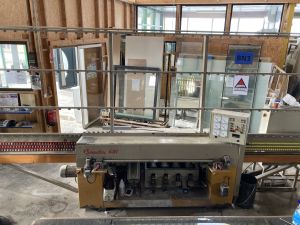 | | | | | |
| --- | --- | --- | --- | --- |
| V2116 | Edger 4 wheels Bavelloni | 2001 | Sold | North Alpes France |
| | | | | |
| --- | --- | --- | --- | --- |
| V2115 | Sand blaster SAG useful 2800x1200 | 2002 | Sold | France east |
Sag is always working with a new owner and supply all spare parts. This machine is sold because the machine owner need a more important machine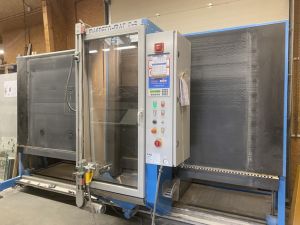 | | | | | |
| --- | --- | --- | --- | --- |
| V2114 | Tempering furnace Low E 1500 x3600 | 2008 | 44990 Euros | Hungary |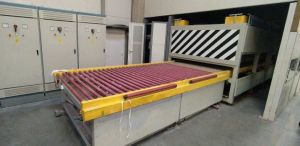 | | | | | |
| --- | --- | --- | --- | --- |
| V2113 | Edger 14 wheels Bavelloni Gemy V14 | 2011 711 working hours | Sold | Spain |
Delivery possible everywhere in Europ
Very good conditions (711 working hours)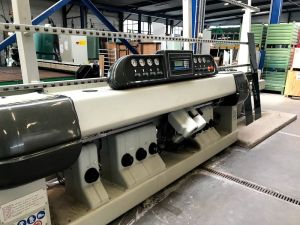 V2112

Bending tempering furnace

GMC

1999

30000 Euros

France East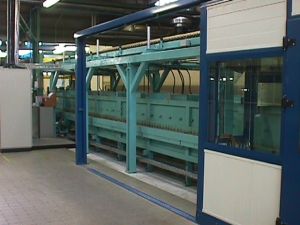 Installation and training possible by manufacturer
| | | | | |
| --- | --- | --- | --- | --- |
| V1904 | Glazier lorry | 2013 126000 kms | Sold | Côte d'Azur France |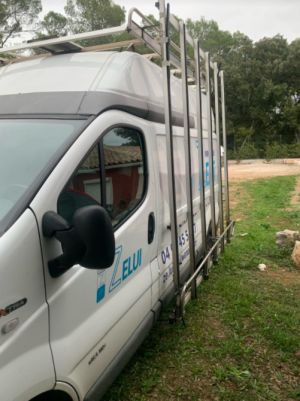 | | | | | |
| --- | --- | --- | --- | --- |
| Va 1874 | Hotmelt pomp SCV 50 liters | 2019 Show room | 7250 E | Trévise Italy |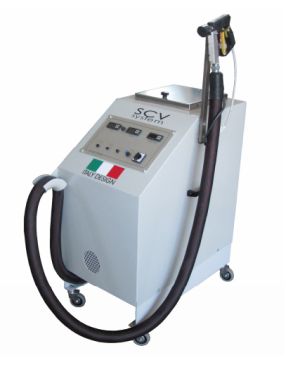 | | | | | |
| --- | --- | --- | --- | --- |
| Va 1873 | Hotmelt pomp SCV 25 litres | 2019 Show room | 6450 E | Trévise Italy |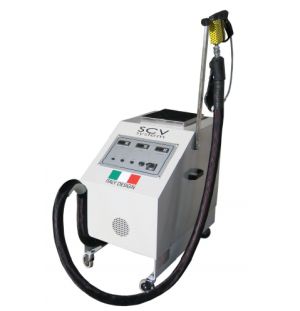 | | | | | |
| --- | --- | --- | --- | --- |
| Va 1871 | Vertical drilling machine, 2 spindles | 2018 | 9700 E | Show room Italy Trévise |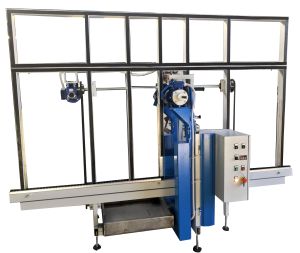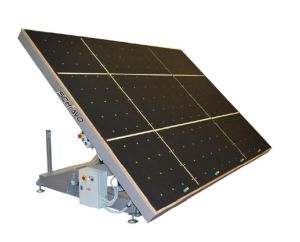 V1805

Manual cutting table 3200x2200

pneumatic

5360 Euros Full warranty

2018

Milan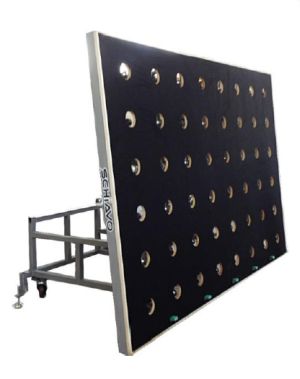 | | | | | |
| --- | --- | --- | --- | --- |
| V1804 | Glass unloader 3T 3300x2600 | 3840 Euros Full warranty | 2019 | Milan |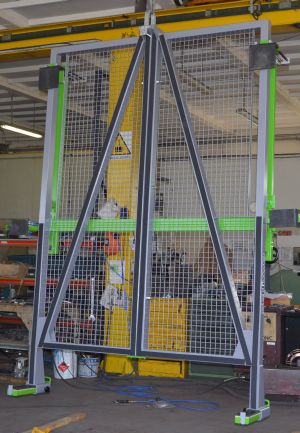 | | | | | |
| --- | --- | --- | --- | --- |
| V1808 | Manual glass rack with roof on the top |   | 2018 | Milan |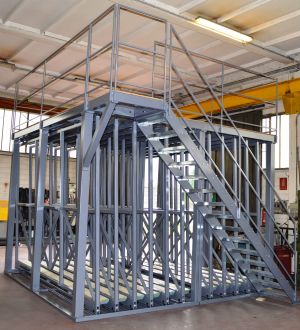 | | | | | |
| --- | --- | --- | --- | --- |
| V1638 | Laminated glass oven Epoglass useful 1500x3800 | 2016 | 23 000 Euros | Poland |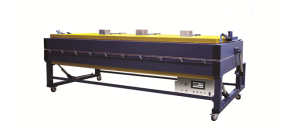 Furnace coming from a fair and sold with full warranty
For more information This e-mail address is being protected from spambots. You need JavaScript enabled to view it or 00 33 664 73 63 77