Automatic sealing robot for double glazing
Available  glass dimensions : 3000x1600, 3000x2000, 3000x2500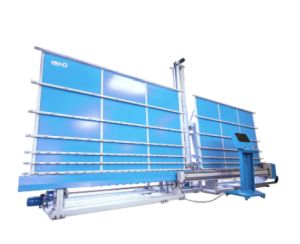 Automatic sealing robot for the last sealing of rectangular, shaped double and triple glazed unit.

With high efficiency & stable quality sealing performance this robot is economical, practical, designed for all glassworks that want toautomate the process of sealing of the insulating glass, reducing labor intensity, saving manpower and improving production efficiency.
Compatible with many of the existing plants, or also suitable for processing off-line, ensure a considerable reduction of production times associated with a higher precision of sealing, eliminating waste of time and material.

Designed and manufactured entirely in Italy in our factory, it allows a wide range of modifications and customizations to satisfy the specifications of each customer.

Equipped with Mitsubishi's electronics parts and with components made in Italy guarantees rreliability, stable performance, easy use and maintenance.

For more information, to receive a tehnical and commercial quotation please contact us on This e-mail address is being protected from spambots. You need JavaScript enabled to view it ou or by phone 00 33 664 73 63 77. Merci