Information
This introduction is for no professional person. It is only a first step to better understand this material.
For professionals or to have deeper information you can have a look on the following web sites.
www.yourglass.fr
www.idverre.net
Article from Jean-Claude Lehmann ( Saint-Gobain).
The glass
Considering the chemical composition it is possible to consider 3 different glasses.
The sodo-calcic glasses
The boro-silicat glasses
-The vitro-céramique glasses
The sodo-calcic glasses are mainly used in architectural markets.
The boro-silicate glasses, due to the low distention coefficient, are present on markets where are important temperature differences and with contact with fire
A very well-known trademark on this field is Pyrex.

The vitro-céramique glasses, with also a low distention coefficient are present in household appliance (oven doors, cooking plates, chimneys…)
This important difference in the chemical composition has results in their properties and using areas. Silica represents between 50% and 90% of the total composition.
Moreover :
-The sodo-calcic glasses have additions of calcium and sodium oxides.
-The boro-silicate glasses have boron oxide.
-The vitro-céramique glasses have aluminium oxide.
There are other oxides (Baryum, Lithium, Magnesium, Potassium, Zinc, Titan….) each giving a specific property, (color, melting point, chemical resistance, mechanical properties..).
A very interesting thing is that the glass compositions have not very different between to-day and 1600 years ago.
The flat glass is mainly used :
-70% in architectural
-20% in automotive
The car we have dreamed when we was a child
Is not exactly the same we drive to-day.
-10% in décoration and appliance
In architectural and automotive is required the more perfect transparency for the light and the weakest transparency for infrared light, because the solar energy is carried by infrareds (to minimize the increasing of temperature inside the building or the car). Infrareds carry also, during winter, the heat to outside and increase the energy used for heating.
Adjusting the glass chemical composition the more important flat glass suppliers Saint-Gobain, PPG, Pilkington, AGC …) succeed to manufacture such glasses.
Glass is transparent, but you can see that, in fact, it has a green colour (due to iron presence) more obvious for high glass thickness (more than 12 mm).
This green colour can be removed with manganese or selenium addition.
The glass can be also coloured.
Cobalt gives a blue colour
Selenium in large quantities gives a red colour
Copper oxide gives a turquoise colour.
With Nickel depending the concentration you can obtain a large colour range from blue to black
With tin you have shadowed white
With iron you can have, black, brown or green
With Titanium black yellow
With gold several different yellow
With uranium addition from yellow to fluorescent green
With Silver nitrate from orange to yellow
Colored glass from Egypte, around 600 years before JC
The colors grades are also depending from glass heating and cooling (like in pottery).
You can colour all the glass surface. Generally this operation is done with rolls (see the area for colored glass in the section machines comparisons) engraved or not, or with pistols.
You can also put a colored image on the glass (with screen printing or digital printing). For more information go to the corresponding area in machines comparisons.
Screen printing from Andy Warhol
Other more industrial exemple.
After this operation the glasses go inside a furnace to fix the color on or inside the glass depending the final using (advertising, architectural…).
Industrial glass manufacturing.
The different products are sent in a melting oven. The industrial process is called "float"
This process was design by a person called Pilkington. This invention allowed to decrease drastically the manufacturing cost and opened huge market for flat glass.
At the oven outlet the glass flows on a tin bath.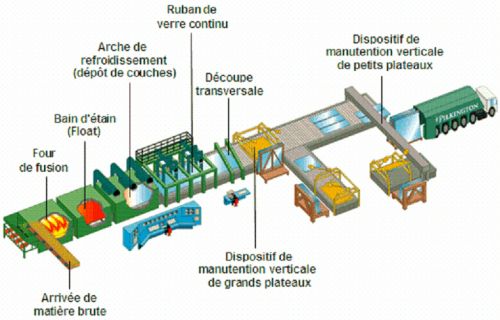 Float drawing
The glass goes inside rolls allowing to produce glass in the thickness required (3, 4 ,5 ,6 , 8 ,10  ,12 ,15 ,19 mm), is cut and sent to the processing companies.