For more information This e-mail address is being protected from spambots. You need JavaScript enabled to view it
V2112

Tempering bending furnace

GMC

1999

30000 Euros

France East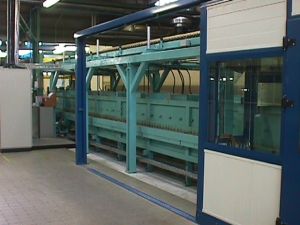 Tempering and bending furnace. From 2004.
86 000 Euros
For more information and see the furnace working  please contact us on 00 33 664 73 63 77 or on This e-mail address is being protected from spambots. You need JavaScript enabled to view it .
Due to several glaziers merging this furnace is available. The furnace is still working, good conditions
The flat glass size is 2500 X 2400  4-19mm
There are 2 bending quenches.
Bend 1 Length 2500  X 2400  4-15mm  Rmin 800mm
Bend 2 Length 1000  X 2400  4-8mm    Rmin 450mm
The furnace is 6 meters long so it has double speed, capacity in 8 hours, 10mm glass is 210 doors (1000 X 2200)
The furnace is located in Athens, Greece.
Selling price is 86000 euros.
Disassembly - Assembly and 1 week training is 20,000 paid directly to NorthGlass
(airtickets - hotel - meals not included)
Transportation costs not included
Extra options possible by NorthGlass
Convection system for  low E glass.
Other Flat Glass quench 5000 X 2400 .
For more information and see the furnace working  please contact us on 00 33 664 73 63 77 or on This e-mail address is being protected from spambots. You need JavaScript enabled to view it .
Merci