There are no translations available.
Isolants thermiques en rénovation
Par Sophie Trachte et Dorothée Stiermon
Editeur EPFL
Ouvrage très technique et très complet sur les différentes techniques et les différents matériaux disponibles en rénovation thermique des constructions. Cet ouvrage décrit avec précisions les caractéristiques des différents matériaux présents sur le marché (isolants organiques, isolants minéraux naturels ou synthétiques, isolants composites, isolants innovants) en les décrivant (avec de nombreuses photos à l'appui) précisant leurs caractéristiques techniques chiffrées, leurs modes d'élaboration, et en balayant un grand nombre de critère permettant d'avancer vers le meilleur choix correspondant au matériau recherché .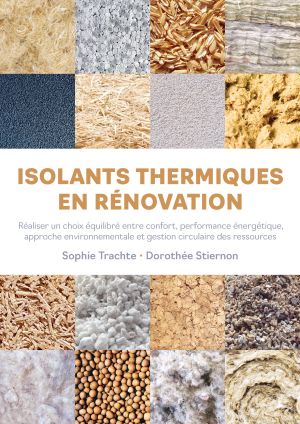 Dans un chapitre complet il détaille leur influence sur la qualité de l'air et sur la santé. Il aborde ensuite sur une quarantaine de pages le cycle de vie des différents matériaux et leur impact environnemental.
Il aborde la notion de l'économie circulaire dans la conception et la mise en œuvre de ces différents matériaux.
Nombreux tableaux, articles scientifiques et thèses sur le sujet.
En annexe figure une liste de fabricants et producteurs
There are no translations available.
Riou glass rentre sur le marché espagnol
Aprés une série de rachats de miroiteries en France sur ces 15 dernières années, puis être rentré en Belgique ( Euroglass) et en Italie ( Cappelletti et Roleri ) en 2022, le groupe Riou glass s'attaque maintenant au marché espagnol en rachetant le catalan Vidresif situé à proximité de Géron. Vidresif est une importante miroiterie avec un CA de l'ordre de 25 millions d'Euros. Le groupe Riou transforme chaque année plus de 100 000 tonnes de verre plat dont il produit une grande partie sur son float de Salaise sur Sanne. Il réalisera sur 2023 un CA supérieur à 260 millions d'Euros avec 1300 salariés et 26 unités de production
There are no translations available.
Affutage des forêts diamantés pour le verre plat
La partie active d'un forêt diamanté, celle qui va permettre de percer le verre est constituée de grains de diamant. Ces grains de diamant sont noyés dans un alliage métallique qui a pour objectif de libérer peu à peu le diamant en surface du forêt diamanté de façon à pouvoir percer le verre.
En perçant le verre la partie supérieure du diamant va se briser peu à peu.
Ce liant doit s'user à la même vitesse que le diamant. S'il s'use trop vite il y a trop de diamant en surface et le forêt va s'user très rapidement et il y a un risque que le perçage se fasse avec des écailles. S'il s'use moins vite que les particules de diamant il n'y aura pas assez de grains de diamant en surface et le forêt ne percera plus le verre correctement. Dans ce dernier cas il faut affuter le forêt de façon à user le liant et refaire apparaitre des grains de diamant en surface. On utilise pour cela des pierres synthétiques, généralement en oxyde d'aluminium.
Mais le besoin d'affutage des forêts devrait être rare, du moins pour les meilleurs forêts diamantés. En effet les fournisseurs qui sont dans ce cas utilisent des liants qui s'usent à la même vitesse que le diamant et donc sans besoin d'affutage.
L'affutage est un réel problème dans le cas des perceuses automatiques.
Bavelloni SPA opens a new branch in France and supports growth in the sector
Bavelloni SPA, manufacturer of technologies for the flat glass, stone and ceramic industries, has recently developed its international presence by opening a new branch in France.
The direction of the branche located in Saint-Priest (next to Lyon) has been given to Ms. Lakbira Zanzoune, already Bavelloni's Sales Area Manager for the french market. This decision represents a strong step in Bavelloni's expansion strategy, which is focused on serving the needs of customers in France and French-speaking Switzerland more closely and offering strong technical support to French-speaking territories in Africa and the DOMTOM, thus contributing in a tangible way to the sales development in these geographical areas.
Bavelloni France has a highly qualified team of sales and technical staff, ready to support our Customer base both during the purchasing phase and after the sale.
In fact, Bavelloni France seized the opportunity to support the 47th National Skills Competition, WorldSkills France, a major technical event held in Lyon from 14 to 16 Sep. 2023 by collaborating in the training of competitors from a number of local schools who competed in the 'Miroiterie' (Glassworks) category. The task of assisting in the training of the 'future glassmakers' was entrusted to Evan Pitout, one of Bavelloni France's technicians who, suitably trained in Italy at Bavelloni's headquarters, skillfully transferred his know-how to the students.
During the contest, the young challengers had the opportunity to work on the Bavelloni VE 350 8 straight-line edger on display at the 'Village de la Construction', demonstrating the skills they had acquired in the use of the Bavelloni equipment.
Page 1 of 76