Belts machines
It is the basic machine for every glazier working in glass processing. And even with the arrival early seventies of the straight line edging and beveling machines, they did not disappear from the glass workshops.
They work with an abrasive belt moving between rolls and with an adjustable speed in front of the glass to process. Changing the belt grit size it is this way possible to process a glass up to polishing and even up to bright polishing (with a cork belt or cerium oxide belt).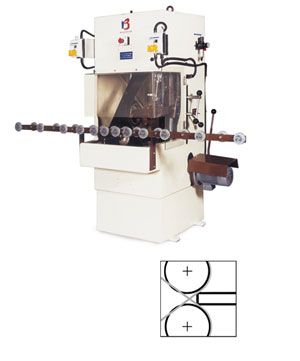 Machine with 2 belts from the market leader Baudin
They are mainly on the market two different belts machines, machines with single belt and machines with 2 belts.
The 2 belts machines are equipped with 2 different belts located at 90°, allowing to cut the 2 opposite seams of a glass sheet in only one operation.
A belt machine is a semi-automatic machine where a trained operator can carry out all the main processing, even a shaped bevel for a very skilled operator (but the bevel polishing).
They are supplied with a table or with rolls on line to help the operator to have a right position for the glass.
The speed for the belts are generally 30 meters/second for diamond or similar abrasive belts, 20 meters/second for the polishing belts and 10 meters/second for the bright polishing belts (cerium oxide belts)