Vertical drilling machine for flat glass processing
The main advantages for vertical glass drilling machines are:
-They need less space than an horizontal glass drilling machines in your workshop.
But generally these machines are more important with large inlet and outlet conveyors.
-Time saving in glass handling
-Possibility for a glass drilling machine to work on line with other machines (glass washing machine,....)
-Possibility to have interesting options (saw  for laminated glass cutting, spindle for glass milling..) giving the possibility for the glass drilling machine to become a more versatile machine.
-Less risks for accident for operators working on a glass drilling machines or scratches on glass
-Closed water circuit: it is easier for a vertical glass drilling machine to send the cooling water to a closed water network to use it again and spare water.
-Less glass dimensions limitations if the vertical glass drilling machine is open top.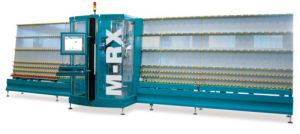 Vertical glass drilling machine from Topdrill
But there are more expensive.
Moreover these machines are going to become real glass CNC machines with the possibility to edge and polish...
This kind of machines are going to be very interesting in the next future but it seems they are more and more proposed inside a comprehensive vertical processing line than as a single machine, but the smaller one (mainly the ones proposed by Topdrill).