Sandblasting machine for flat glass. Dynamiki.
The sand blasting machines manufacturer, Dynamiki is one of the mot dynamic and innovative company on the flat glass sand blasting market.
Dynamiki has designed and proposes a large sand blasting machine range with 12 different machines ( 2 horizontal, 6 vertical machines for glass sand blasting and 4 manual machiness) with a useful height up to 3300 for the more important machine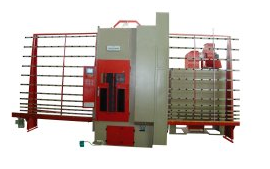 Dynamiki is certified  ISO 9000:2000
All the sand blasting machines have the following technical data. .
-Touche screen
-PLC controlled
-Manual and automatic gubs
-Cabin with internal vacuum (the way the sand remains inside the cabin)
-Self Cleaning Dust collector
-Cyclone separator for reducing abrasive consumption (No on all the sand blasting machines range)

-Software for degressing sand blasting (option on some sand blasting machines )
-Boron Carbide Nozzles or Tungsten Carbide Nozzle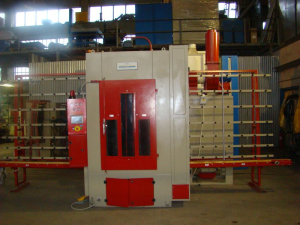 For more information and to recive a comprehensive technical and commercial offer, please contact directly
Nikos
Dynamiki
33 Ag. Anargyron Str.,
19300, Aspropirgos, Greece
Phone: +30 210 55 70 181
This e-mail address is being protected from spambots. You need JavaScript enabled to view it
You can also contact us on  This e-mail address is being protected from spambots. You need JavaScript enabled to view it or by phone  00 33 664 73 63 77. Merci
The sandblasting machines ranges for flat glass by Dynamiki.
1/M120A
Automatic sandblasting machine, open top with useful working dimension 1200 mm. Low pressure inside the cabin, this way the sand remain inside the cabin. Delivered with 1 automatic gun and one manual gun.
2/M120SA
The GlassBlaster M120SA is designed for sandblasting flat glass and marble. It is a semi-automatic machine, with one manual gun and foot operated belt movement essential for small workshops and special decoration applications.