To sell automatic new sand blasting machine
from Dusseldorf (Glasstec) exhibition.
This machine will be on Glasstec show and is sold with an interesting price.
Automatic machine M 180 drived by PLC (touchscreen 7 pouces) with option decreasing sand blasting. Useful dimensions 180.
3 guns (2 automatic and 1 manual);  Boron carbide nozzles.
The working height of the Robot is adjusted by PLC Dust collector with 3 self-cleaning Cartridge filters by cyclone system.
Sand-blasting speed range: 3 - 4 min/m²
Useful sand blasting dimensions: 400 mm x 400 mm (min) 1800 mm x 5000 mm (max).
Glass thickness: 3 mm (min) / 50 mm (max)
Air consumption: 2.000/2500 lit./min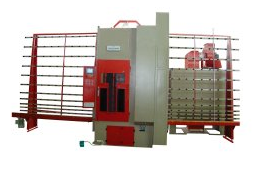 Selling price 18 900 Euros
Trade mark : Dynamiki (hundred references in Europe and over)
To receive a technical offer please contact us on This e-mail address is being protected from spambots. You need JavaScript enabled to view it or by phone 00 33 664 73 63 77. Thank you