To contact us : This e-mail address is being protected from spambots. You need JavaScript enabled to view it
Flat glass newsletter. November 2015
Chemical tempering 2
WHAT IS CHEMICAL TEMPERING?
Chemical tempering is a surface treatment made at a temperature under vitreous transition.
Glasses are dipped into a bath with melted potassium salt at a temperature superior to 380°C for a period of
16 hours. Under these conditions, an exchange takes place between the potassium ions in the salt and the sodium ions at the surface of the glass.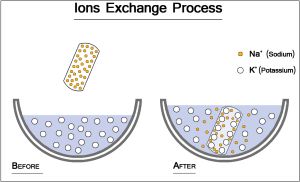 The introduction of potassium ions larger than the sodium ones, involves as a consequence, the establishment of residual stress characterized by a compressed tension on the surface compensated by stress tension inside the glass.
New laminated safety glass from AGC
Stratobel Strong is AGC's new laminated safety glass offering unique strength and an exclusive look.
More rigid, more resistant
The PVB film used in Stratobel Strong is 100 times more rigid than the standard plastic films used, which gives it a higher load capacity; as such, under certain conditions, the toughening process may no longer be necessary. The thickness of the glass can also be reduced, resulting in a thinner, lighter assembly. Stratobel Strong also offers lower glass deflection under load: the laminated glass remains in place even when broken, ensuring safety and security for people and property. The PVB film's strong adhesion to the glass significantly reduces its sensitivity to moisture and limits the risk of delamination, and its composition is also compatible with a wide range of sealants and adhesive.
Perfectly neutral appearance
Developed exclusively for AGC, this special PVB film also features a unique, perfectly neutral appearance which does not alter the colour of the glass in any way. This is especially noticeable when AGC's highly transparent Planibel Clearvision is used in the Stratobel Strong assembly. A perfectly neutral appearance is guaranteed, even in very thick versions.
Processing and availability
Stratobel Strong is available in a wide range of thicknesses and in large dimensions up to 321 cm x 600 cm. It can be combined with clear, coloured or coated glass, or highly transparent glass (low-iron content), and can be processed in all the same ways as other laminated glass products.
AGC service
The technical support and expertise provided by AGC's Technical Advisory Service, together with the numerous tests and certifications available, are on hand to guide you through the design and calculation phases of your project, ensuring compliance with the latest applicable standards and certifications.
Stratobel Strong is Cradle to Cradle CertifiedTM Silver.  This new product will be unveiled at the Architect @ Work exhibition in Paris (stand 57), to be held on 19-20 November, 2015.
The meteoric rise of the Basque Glass Partners in the distribution of glass
Founded in 2003, the SME already generates 43 million euros of turnover and is about to take a new course in international
In recent years, Glass Solutions Partners has established itself as one of the key links in the glass sector. But although installed in Anglet, this company is hardly known in the Basque Country. A choice of its founder, Elie Benmergui, who prefers to remain discreet.
A winning strategy
Yet this SME, founded in 2003, produces 43 million in revenue. It must be said that the activity of this company, specialized in the distribution of glass products, is strongly internationally oriented. At Anglet, at the registered office, 18 employees speak English and Spanish fluently. The group has also, since 2004, a structure in Spain, Glass Solutions Partners Iberica, Alicante.
To stand out from the competition, Elie Benmergui, the company's boss, offers an unrivaled range of 2500 deliverables flat glass references in twenty-four hours. To this end, it has 86 storage points in Europe. Its customers are market shaper and mirror dealers often lack space to store their goods. To attract and retain, it offers value added services such as financing their stock of different reference flat glass.
New ambitions
Today, his company and its 53 employees are firmly established in the market for the distribution of glass. Meanwhile, Elias Benmergui has also specialized in complex architectural projects, like the wave-shaped canopy that covers the extension of BAB2 shopping center in Biarritz. An activity, which now represents 30% of its turnover. And two years ago, he also invested in a laminated glass production plant near Madrid.
Today, Glass Solutions Partners continues to weave its web abroad in Asia, Australia, USA, North Africa ... "The goal is to reach 60 million euros turnover in next five years, "says Elie Benmergui. And to achieve this, a new and important financial partner - whose name is still a secret - just go up to the company's capital. With key, at least ten jobs created by 2020.
Chemical tempering 1
Because thermal tempering limits indictable in the minimum thickness of 3mm, difficulty in
bending glass articles, poor optical quality, considerable distortion etc., more users in different areas (Aeronautics, aerospace, naval, military, motor, electronic and architectonic), sectors asking for glasses with particularly shapes and small thickness) require chemical tempered glass.
Given the evolving phase of these sectors, the chemical tempering is suitable to find optimal arrangement between thickness and shape.
Today with the development of new glass working systems, chemical tempering allows to obtain glasses previously curved and then chemically tempered also starting from thickness inferior to 2mm.
The shape of the glass sheet will not be modified during tempering, obtaining perfectly coupled sheets successively during PVB lamination.
Visit Vitrum
The first (bad) surprise on arriving at Vitrum is that the lounge is increased from 4 to 2 halls since 20133. Being a surface of 50% decrease. Despite the increase in the presence of Chinese exhibitors.
Inside, only Intermac has retained all of its usual surface. Lisec who has accustomed us to not impressive stands exposed. Bottero has significantly reduced the size of its stand. Several exhibitors are far from certain to expose in 2017.
On the more positive news we see the return of Bavelloni and with machines on the stand (straight, bevelling, bilateral) demonstration. Bavelloni was recently acquired from Glaston by 5 Italians of its executives exepted the tools and wheels manufacture for flat glass processing.
More transparent glasses
How ? These glasses, called "chalcogenides" do not contain oxygen. Team Specialty Glass and ceramics Institute of Chemical Sciences of Rennes, the technique is not new, but until now was based on a complex manufacturing process, "it comes from melting, vacuum and to 900 ° C, a silica ampule containing the raw material of which the chalcogens. Controls are many to avoid contamination with oxygen, "explains the researcher, who worked for his thesis on a different process
The method is to obtain a powder by mechanical pulse shaping by "sintering" - heated to 400 ° C for several minutes. While the chalcogenide glass required several days of preparation, this technique allows to develop in a few hours
Super Spacer® used in innovative glazing Alfa Clean Skaal
Edgetech Europe GmbH, a Quanex Building Products Company, is pleased to announce that its technology Warm Edge Super Spacer® is integrated in windows really Innovative known manufacturer of window, doors and insulating glass, Skaala Oy, whose headquartered in Finland.
Christina Bång of SinChriJo Agenturer AB, the Edgetech distributor in the Baltics and Nordic, said: "Skaala recently launched this innovative window Integrated heat exchanger that can cover a 25m² surface. It is the only company in the world offering this technology, it took 3 years to develop with some strategic partners. The heat exchanger system is integrated into the frame, looks like a normal window and can be installed without additional work in the opening of the window. The integration of Super Spacer® in units ensures excellent U values ​​also.
Skaala Alfa Clean is an indoor solution combining a balanced ventilation, clean air, comfort and a much improved energy efficiency. She understands ventilation and heat recovery in a high-performance window. There solution does not reduce the size of the glazing, nor does it change the appearance of the building. It is easy to install when there are no outgoing frame pieces, operable independent and requires no bulky ventilation ducts. Systems Smart care for ventilation and indoor air quality so independent. The problems caused by humidity and temperature changes are solved by a controlled removal of the condensation and defrosting automatic. The window of energy efficient Skaala also offering heat recovery and a controlled intelligent ventilation system allows substantial savings in heating.
Joachim Stoss, the Director General of Edgetech Europe, added: "The research service Development of Edgetech continually seeking new ways to improve our wide range of products, we are pleased to work with companies as Skaala who have the same approach as us. The Alfa is really clean window
An interesting and innovative contribution to the window market. We are happy to be one of the components that allows the window to retain its effectiveness energy with low U values ​​"
The glass as hard as steel
The research results were published in Nature magazine.
Japanese scientists say they have created the glass as hard as steel. The secret ingredient in its composition is aluminum oxide. This is its combination with silicon dioxide which makes it much stronger.
Previously, when scientists used a large amount of aluminum oxide, the mixture is crystallized from it returning into contact with any container. Therefore, a glass sheet could not be formed.
That is why Tokyo researchers developed a method that allows not to need container. They used gas, which raises the chemical components in air, where they are synthesized. Result? The highly transparent ice that is made with 50% aluminum oxide, at its resistance, could be compared to steel or iron.
Practical use possibilities of such a material are incredibly broad.